Do the cover of the notebook "Warm autumn"
Autumn - a wonderful time..... Nature makes us happy the warm colors, even in the afternoon warm sun shines, and so want this heat to keep longer..... So I decided to make a Notepad in warm autumn tones, and I really want to share this exciting process with you. Can you feel the autumn mood, and make yourself useful accessory.
On uniqueness do not apply, just show how I do the artwork for the Notepad.
Materials
:
1. Paperboard - bookbinding or beer.
2. Polyester batting or fleece.
3. The fabric is cotton.
4. Paper for scrapbooking.
5. Herringbone tape 2 colors.
6. Paper raffia.
7. The metal fittings.
8. Wax cord.
9. Acrylic paint.
10. Wood beads.
And so the same: glue Moment Crystal, thread, needle, sewing machine.
let's Get to work!
Since the master-class we have only the cover, creating a notebook should be prepared in advance. You need to make a block to Notepad (for PITS plenty of good MK how to do it). I love notebooks format A5 (21*15cm), so we need to take a sheet of A4 paper and fold in half. In my usual notebooks 120 sheets, i.e. 60 A4 sheets folded in half. Of them formed a booklet on 4 sheets, for a total of 15 tetrodocain. All of this Coptic stitch binding (book or tape), after you have glued the spine with glue Moment of the Crystal. When the glue dries, the block can be cut. I cut myself with a utility knife and metal construction area. Then you can glue the endpapers and to weave a headband.
And that's what happens.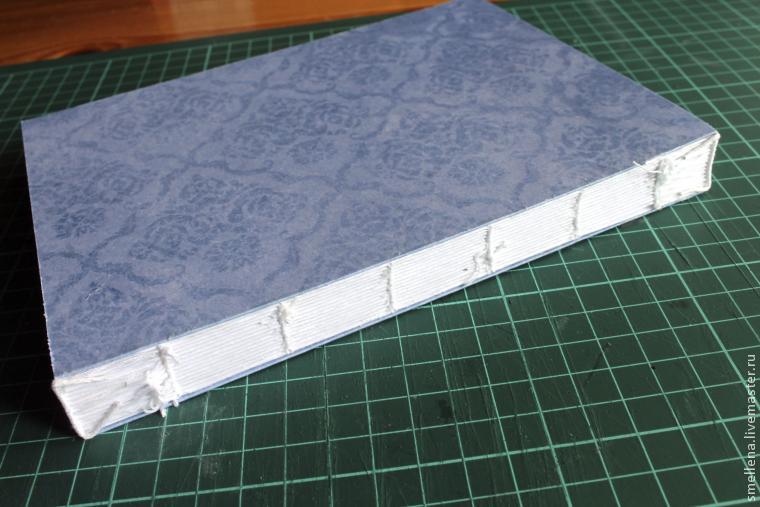 Proceed to the most interesting - the cover.
We select materials. Here I focused on color and texture. Warm autumn palette, natural colors and natural materials.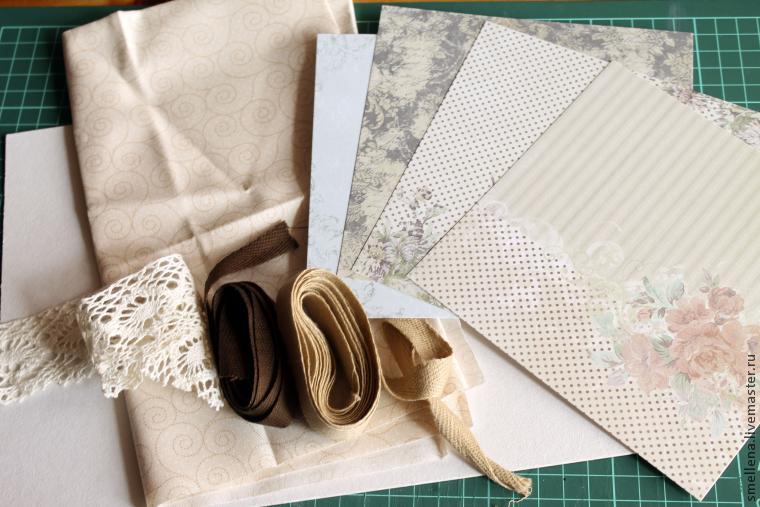 For the cover we will need a carton A4 (210*297мм). Cut in half, get 2 rectangle size 21*15 cm Measure the thickness of our block (my block got 1.8 cm) of heavy paper cut a strip width of 2.4 cm (add 6 mm) and a height of 21 cm.
On the table neatly spread our billet at a distance of 2 mm (thin in the middle). You freeze between paper tape or glue the top sheet of office paper.
If we want a soft cover, on this stage take the batting or fleece, our blank of cardboard drip a few drops of glue and glue soft substrate. Then on the edge to be cut with scissors.
Prepared fabric. Be sure to iron iron to perfection, this helps me starch.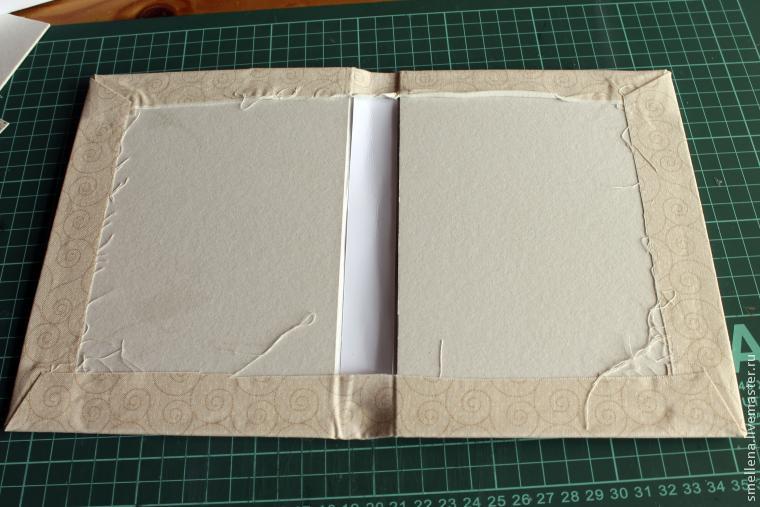 It is very important to stretch the fabric!!!! If done poorly - when firmware will fold, if tight - will be hard to close. First, bend the corners, glued, check that nothing is twisted. On one side glue, do not forget to check .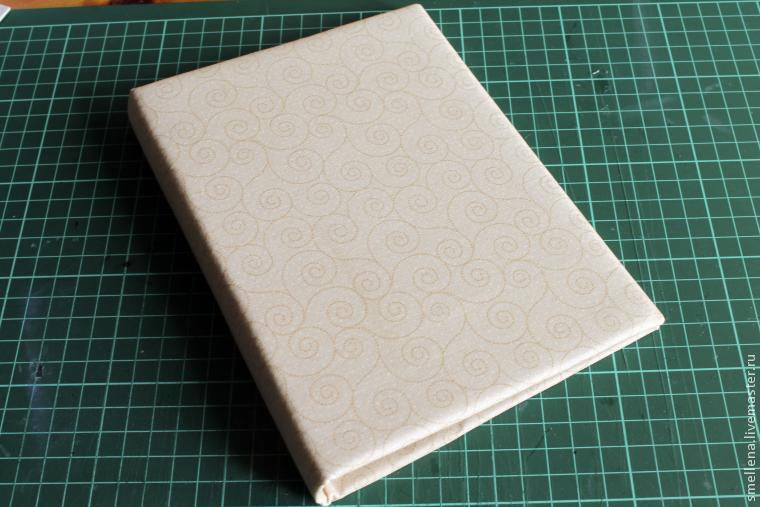 Half the battle is done, proceed to decorating. From skap paper we picked up make up the composition. Beginners or when you lack of inspiration you can use sketches (on the Internet a lot of them).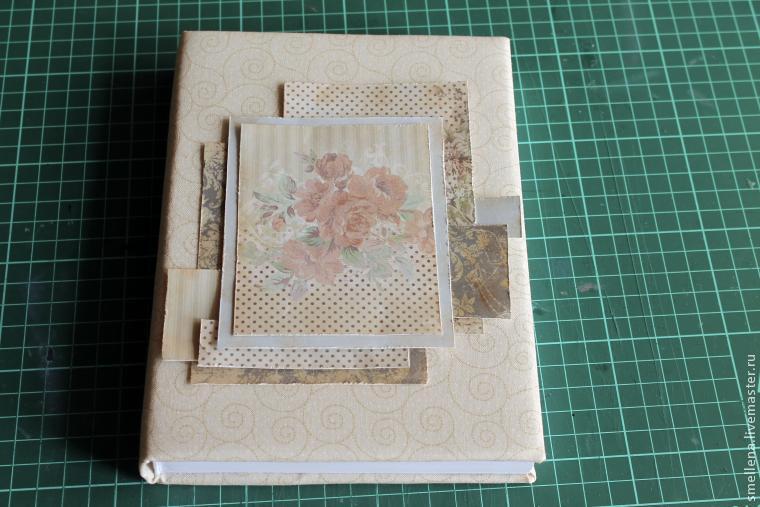 I had such composition.
Using scissors, processing the edges, then stamp pad brown is a little toyroom. Make our decor a little frayed and yellowed.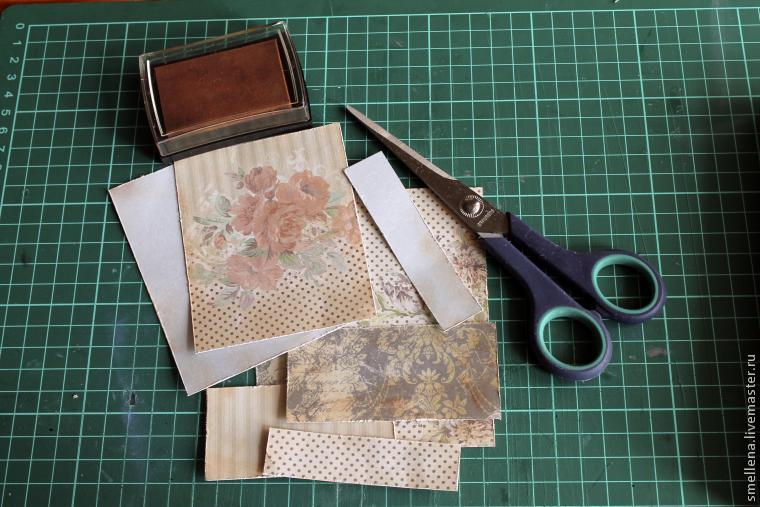 Here I wanted to add lace and to try on future flowers.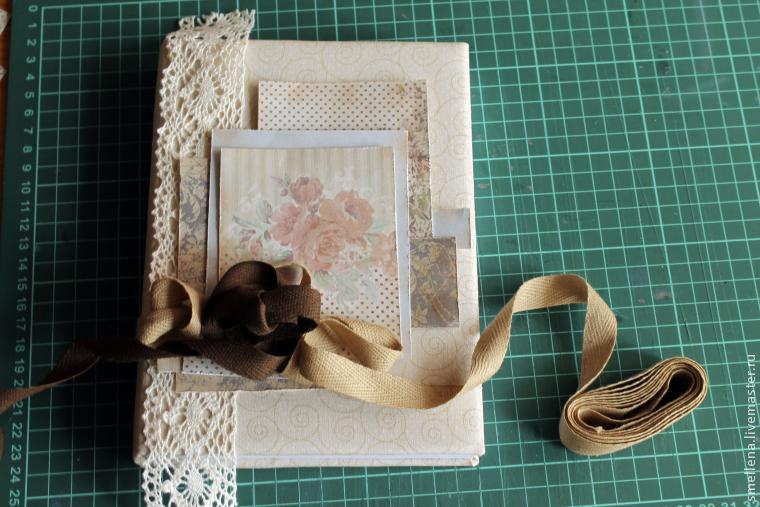 I was happy with everything! Stitched cover.
Glue the lace, pull smoothly and the back cover the glue on the crystal point.
I sew on the machine each piece of paper. Sew regular stitching only make a bigger stitch length to the holes not often. Remove all the strings inside out, and tying knots.
How to remove the thread from the inside out, from the inside, slowly pull the thread to form a loop, pull a loop of the front thread. It's very simple!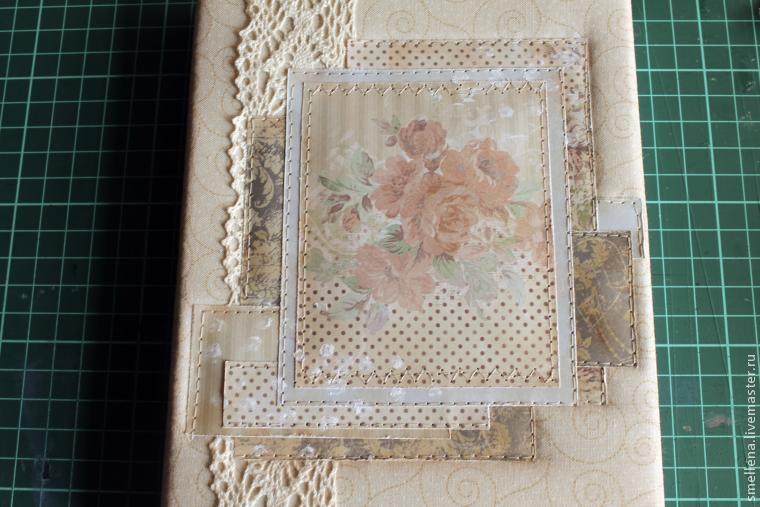 I love the white acrylic paint and do here and a little bit painted on
I have a stamp with a beautiful frame, I decided that here is great. Use stamp pad brown.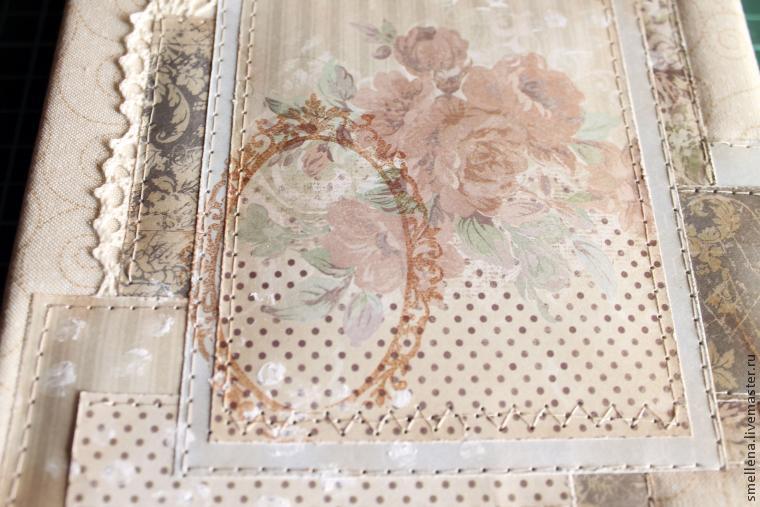 Now we are going to do the flowers.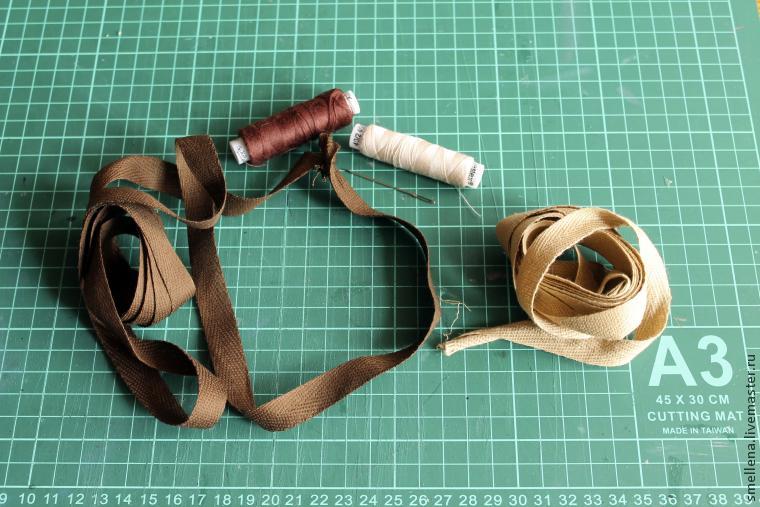 Of surgical tape chocolate color I got a large flower and added the lace the color of milk. Bright tape tied tightly in a spiral and left on time, it will make two small flower.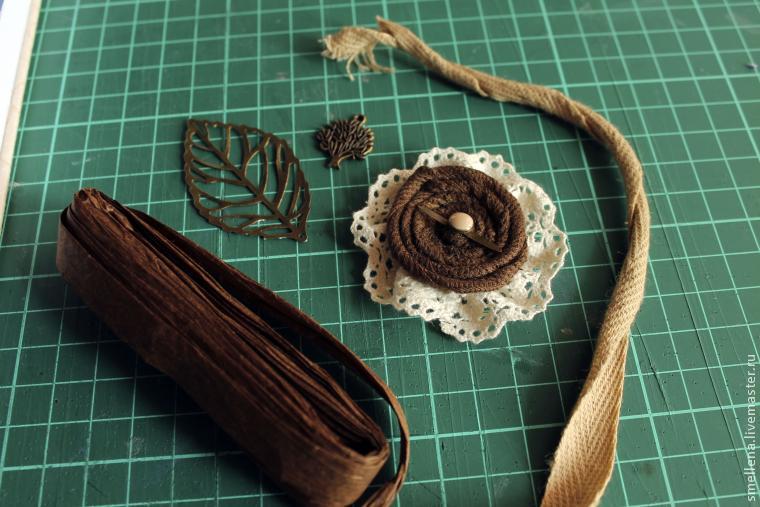 In the middle of a large flower stick brads cream color. In the bins I found a beautiful metal hardware, raffia and brown.
I will do a simulation of dry grass - rip off a piece of paper raffia, a little twist, shake and paste.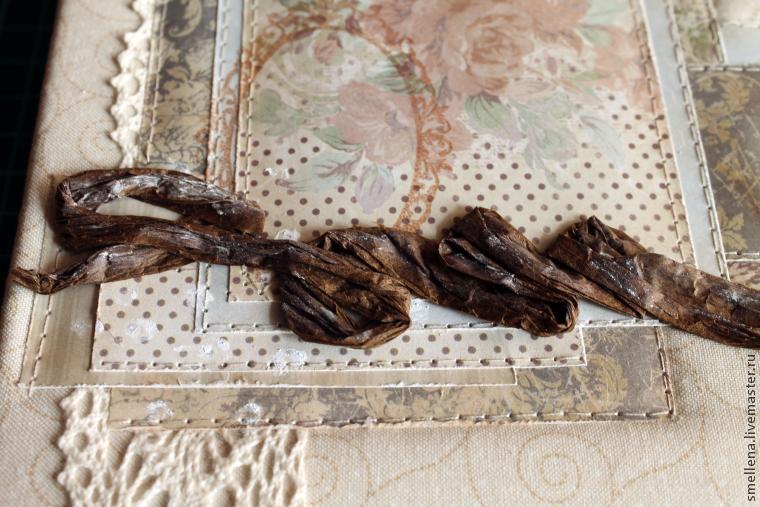 and here I could not resist and walked with a brush and white acrylic paint)
Our bonded bronze leaf and flower (crystal).
From bright herringbone tapes form two of the flower, fasten them with thread to match the ribbon and stick it on the cover.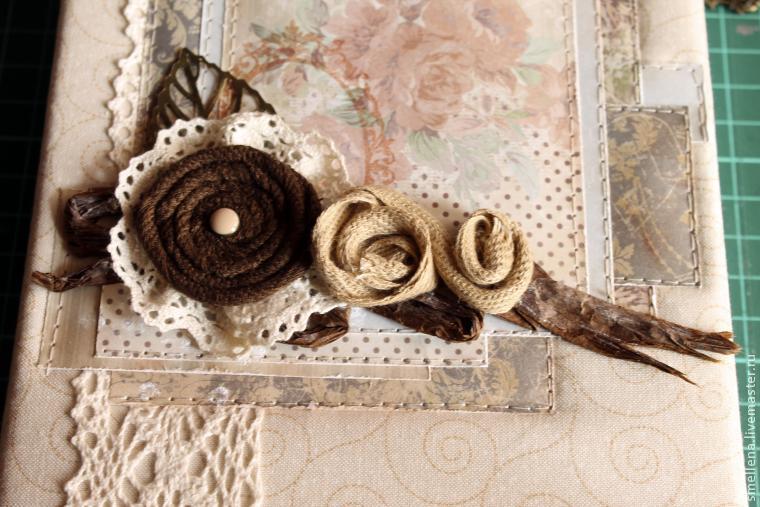 In the middle of one flower, glue a wooden bead, and two more under the lace (do not strike the eye, but they are there).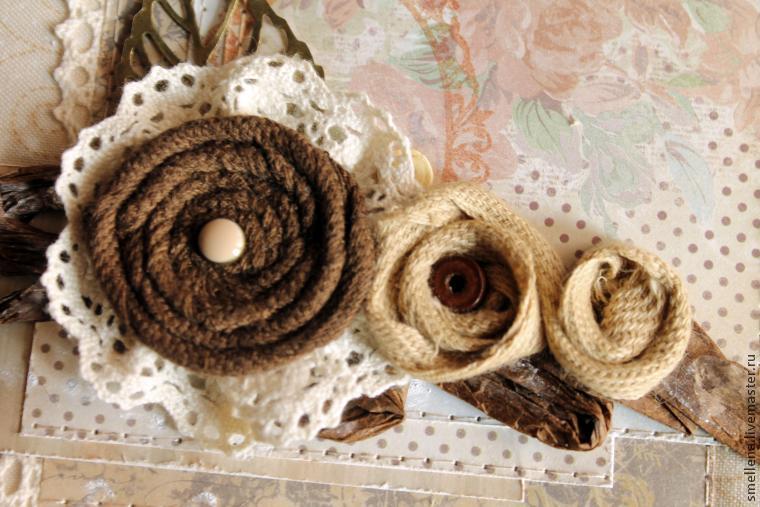 Everything! Cover ready! Insert the bookmark I have made from waxed cord with metal pendant. The cord is glued on the Crystal point, and on top for reliability, double-sided tape.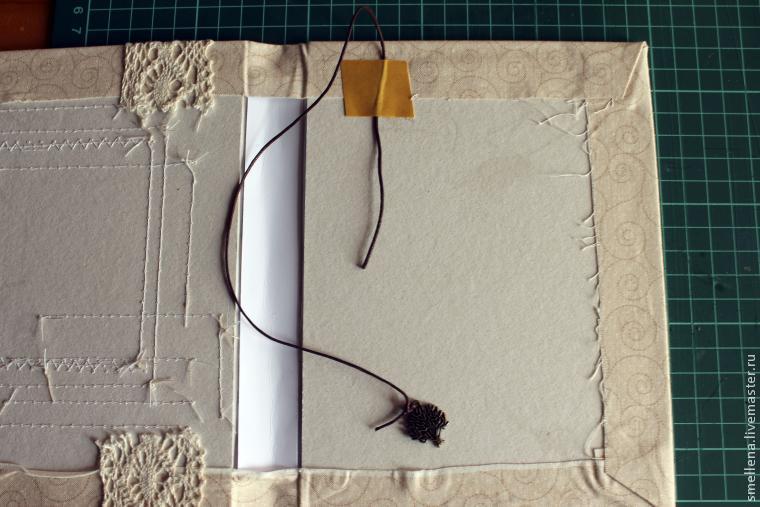 You can paste the block! The endpapers smeared with glue Moment Crystal, and properly glued to the cover. All plump presses, you can use office supply clips.
Everything! Enjoy the warm, autumn Notepad.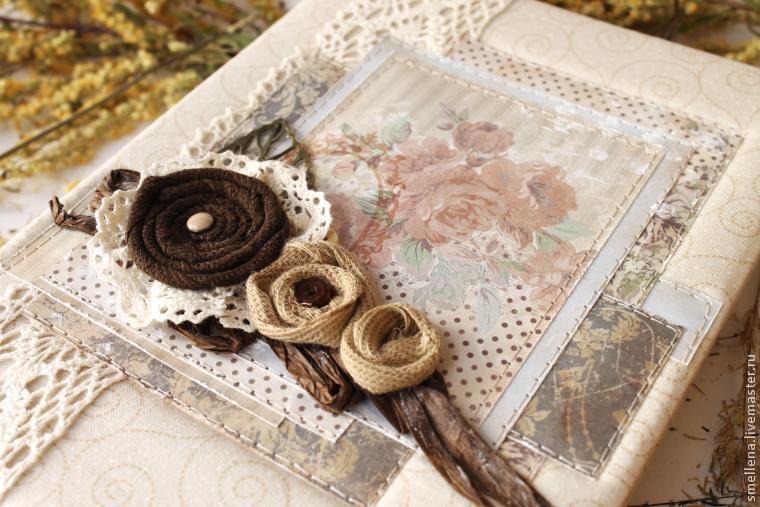 If you liked the master-class, unforgettable about the button "Like", I will be happy!
Get inspired by nature and create!