Master class on volumetric postcard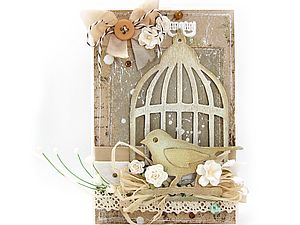 Hello, Dear readers.
Today I will show you how You can make a three-dimensional spring card with bird and many other details!!! Work with chipboards, glimmer misty, paints, embossing and other intricacies of scrapbooking))) If You do not have any decorative elements - do not worry and feel free to model their available counterparts, it's work and it is EVERYTHING!!!)))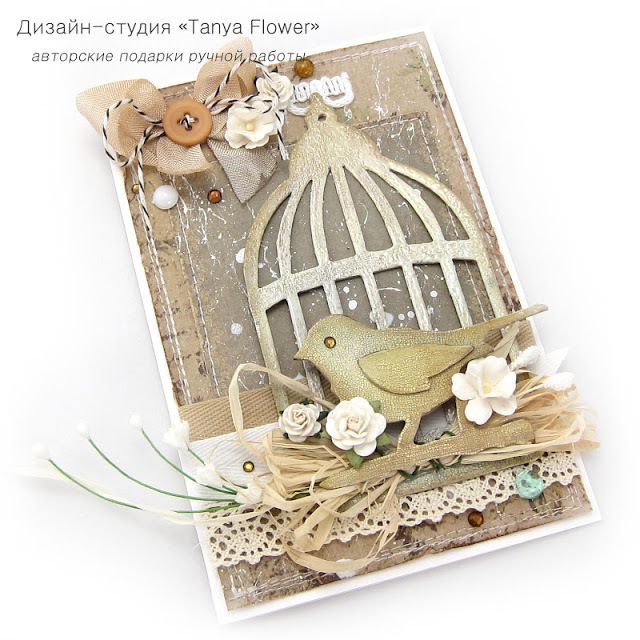 Well, start???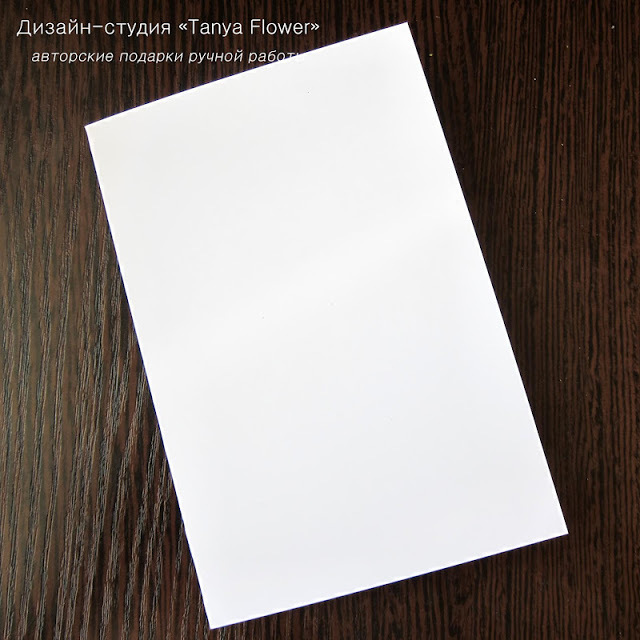 Prepare the basis for the cards (I used 10x15 cm)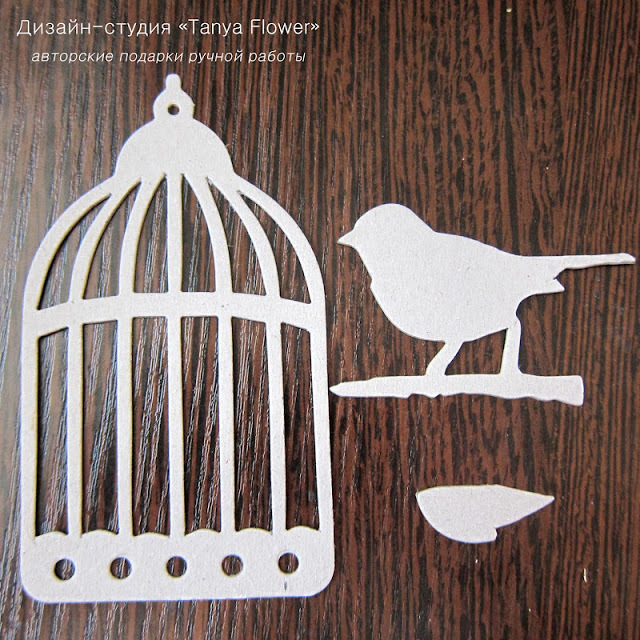 Take decorative blank chipboard (I have the bird cage from Tim Holtz, but you can replace them with any other suitable meaning to your cards chipboard)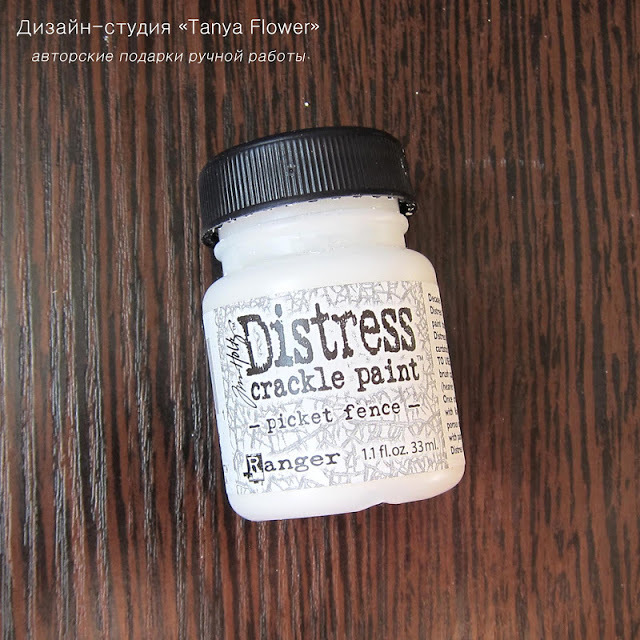 Get from wide leg paint craquelure (if you don't have such craquelure and there are a lot of different ways to do the craquelure on the surface, even with the help of PVA, it is something you must have ;-) but you can never fool on craquelure and just cover the chipboard with white paint).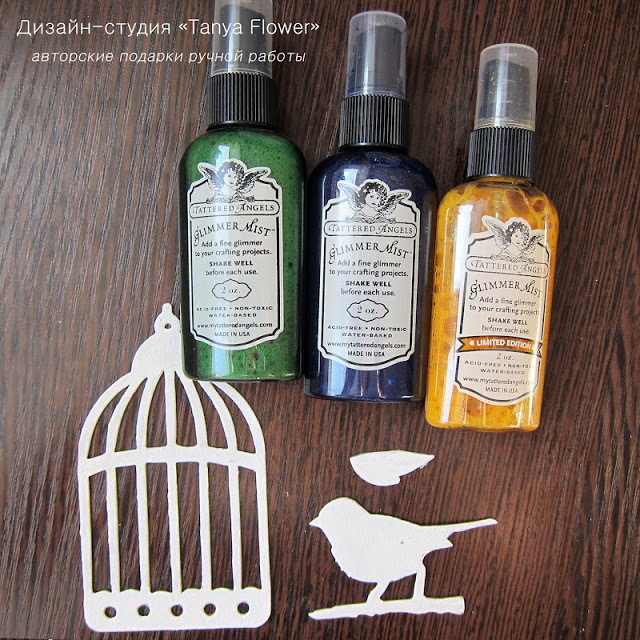 From the second pocket get the glimmer Misto, or their analogues, those colors that you have and that fit on the subject of postcards.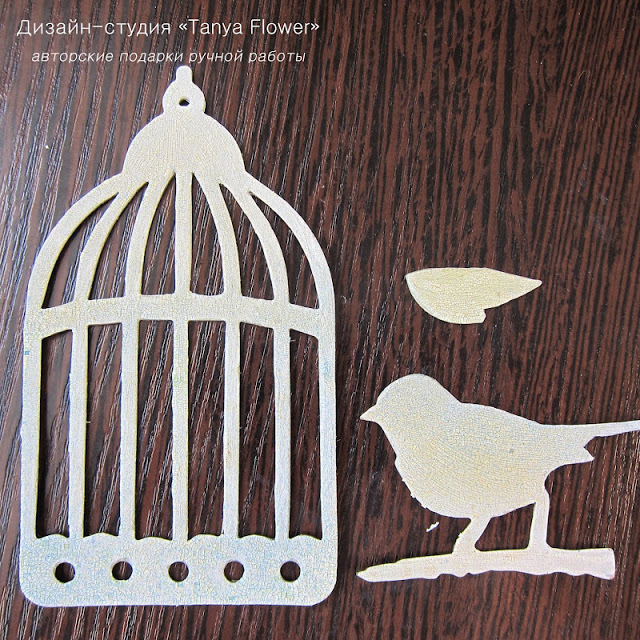 Sprinkles this good on our dried up after the paint chipboard. Here it is shown all the beauty of craquelure.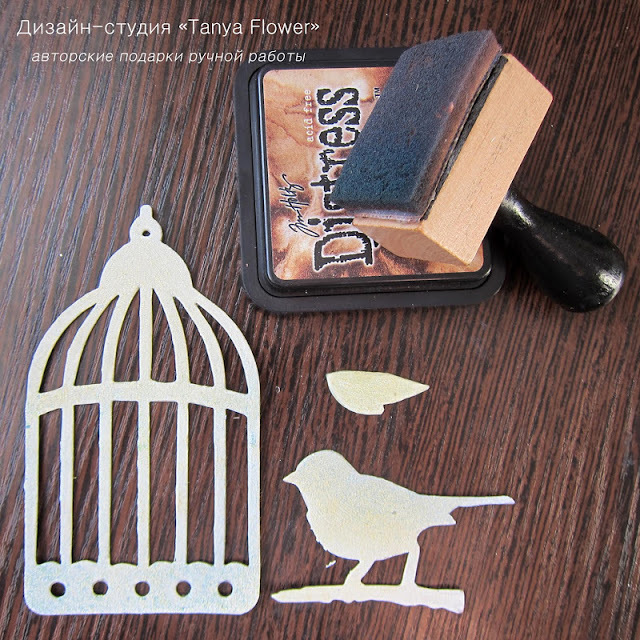 In order to emphasize the boundaries of our pattern chipbord slightly tonyrueb the edges distress ink.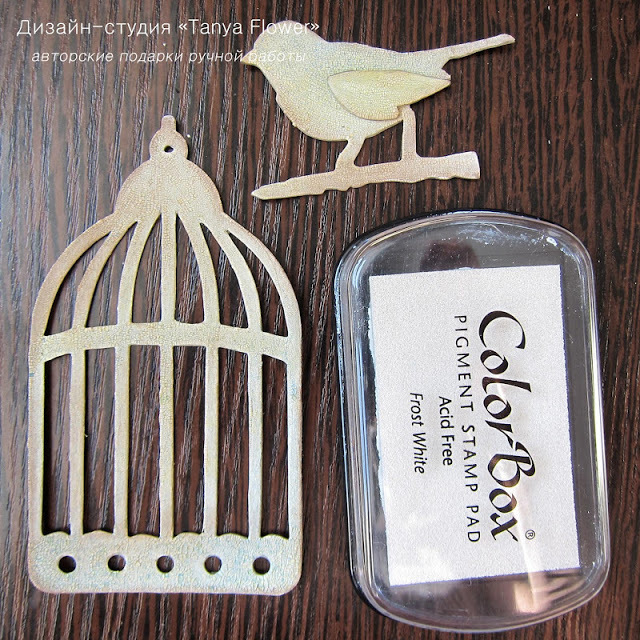 But at this stage it seemed to me that the bird and the cage should not be the same color and I decided a little white cell with white ink (this is an optional step and it just emphasizes soreness flight of my imagination)...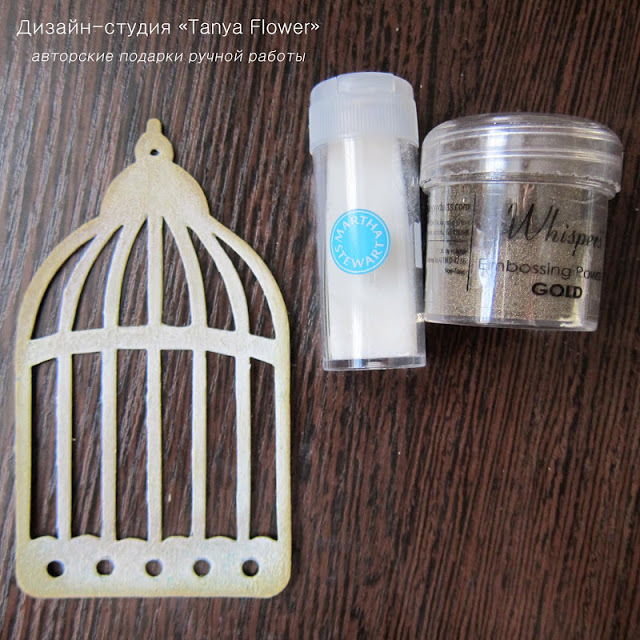 And once I went to a booze realistic perception, I decided that the cage is metal and it should have the appropriate texture and coated it with a transparent embossing, as well as the cage we have is not new, it's obvious by the nature and mood of the card, then I added her a few more strokes of "blackened gold" embossing.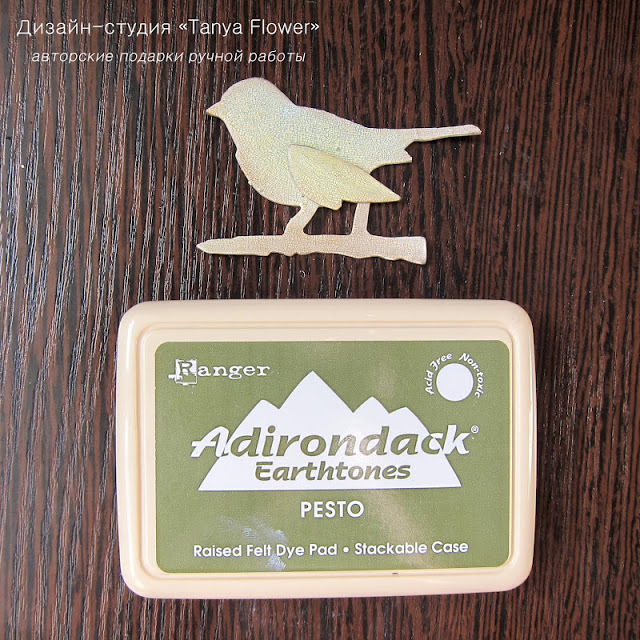 And this is my sick carousing imagination did not stop there. I decided to give our bird more spring rich color and barely walked on it in green ink, Oh forgive my ignorance, of course, the color ink pesto ;-)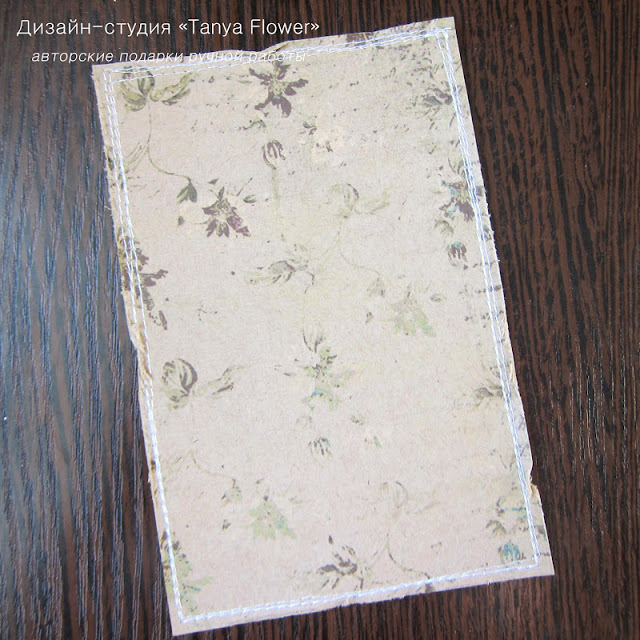 Now we need to make the substrate of our future cards. Cut out the appropriate rectangle scrapbooki 9,5x14,5cm and sewed it around the perimeter on the sewing machine (in the absence thereof, - an optional step)...also a little muhrim and torn edges of the substrate.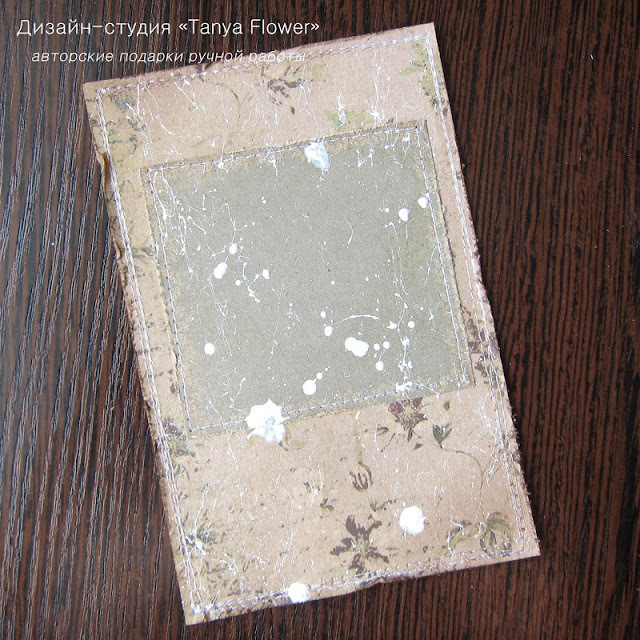 Find another piece of scrapbooky, any color and sew it to the workpiece slightly above the center line. Generously sprinkles on our card with white paint!!! With a strong desire, even a little bit tonyrueb edge of our pad distress ink.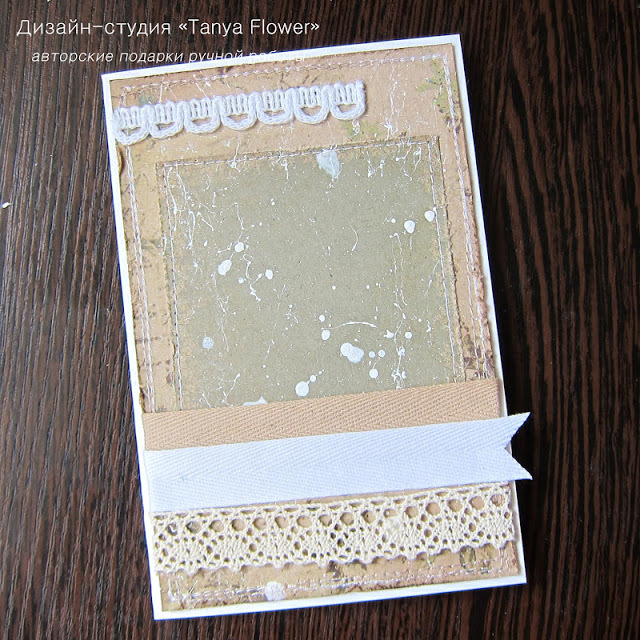 Glue the backing to the base cards. Vtihorya get from my grandmother's trunk lace Yes tape))) cut them to the size and glued to the workpiece.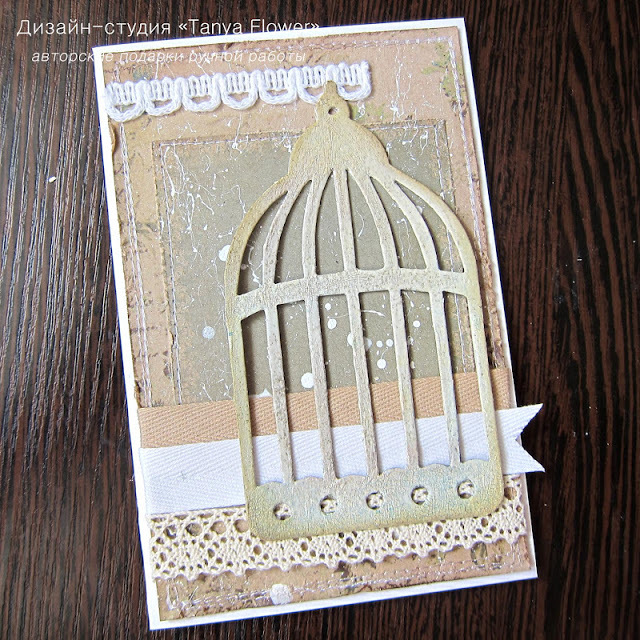 The next step glued to our cell. Good glue!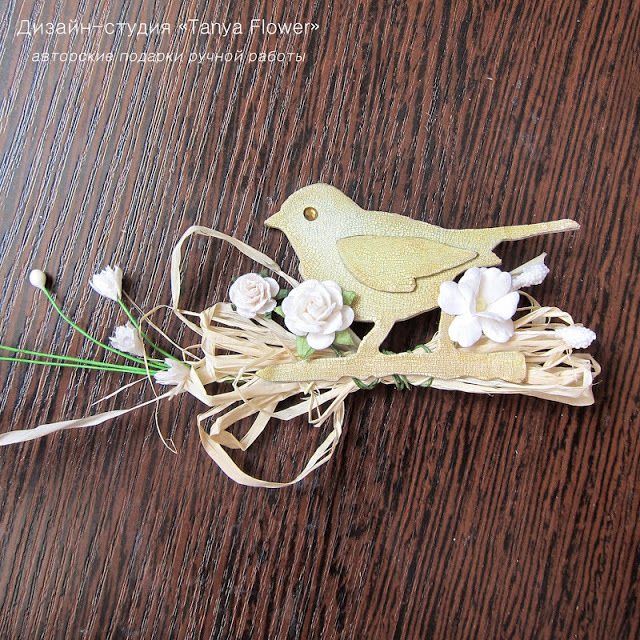 Now we need to collect the composition of the raffia, twigs, flowers and, in fact, most birds that are good sets!!!)))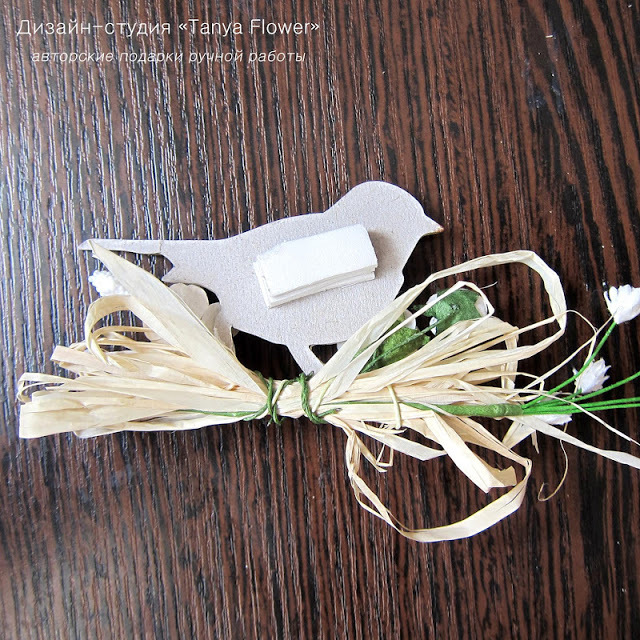 The bonding between all of this mess beauty, and on the reverse side of the bird's glue in several layers of dimensional tape.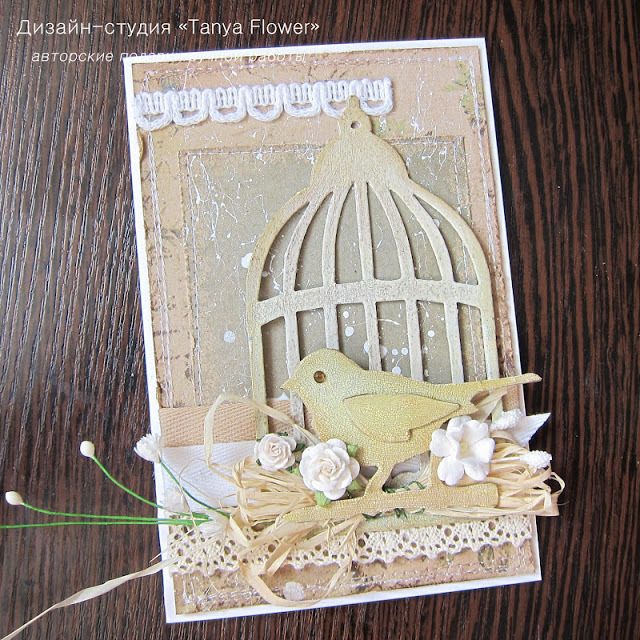 Attached to the postcard. Scotch is not enough, in addition to it I pasted the whole design onto the hot glue gun.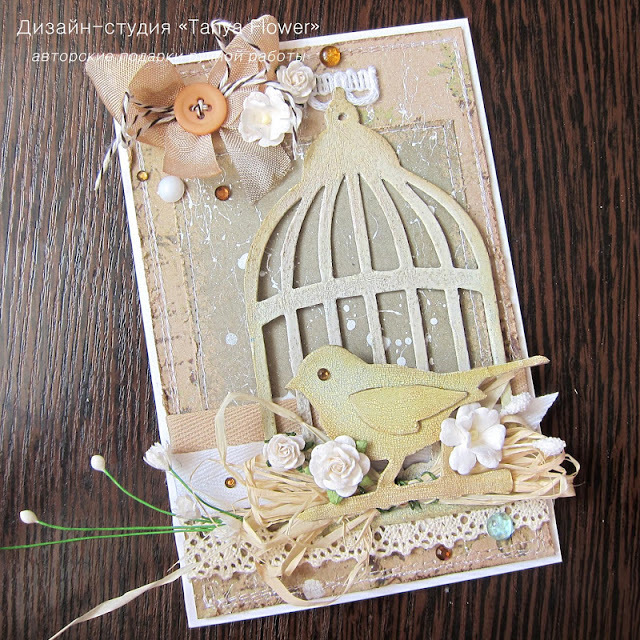 Already all is very beautiful and you can stay!!! But we need more than that and we vigorously scratching the bottom of the barrel in search of any pugovichki, beads, strazanac, acrylic drops, and other rubbish sweet to our heart the small things in order to give our work the complexity, interestingness, and other things mnogozadachnosti volume!!! Don't go overboard with this ;-)
Well, that's all!!!))) Doing, friends! Give people joy!!! Surprise your loved ones and come back to us for a new portion of inspiration!!!)))
With love by Tanya Flower
To examine other photos of this card, or buy ready to work .